In the beginning ...
"Us Enduring" is a new, online community. In this, the first ever post, I'd like to focus on questions such as what is "Us Enduring", what's the purpose of this platform and community, how is it going to work, who started it and more.
Please stay tuned as I continue to make updates to this post, which I hope will be read by new and prospective members and content contributors, in the weeks and months to come.
What is "Us Enduring"
Us Enduring is a community or group of people who share an interest in a common topic, and that topic is the Great Depression of the 21st Century which I believe we will soon experience (it might have even already started).
But it's not so much having an interested in the economic depression, but rather how it has and is affecting our lives and the lives of those around us. We share content, have discussions, ask and answer questions, share resources and more around that general idea.
It's a community located online but we hope will create lasting impact non-virtually as well - in people's and their community's day-to-day lives.
What is the purpose of the community?
We, as Americans, have experienced economic recessions in the past:
Dot-com bubble burst in the early 2000s
Subprime mortgage crisis in 2008
COVID-19 in 2020
Each of these led to terrible realities for many Americans - lost jobs, bills not being paid, homes foreclosed on, mental stress.
But, unfortunately, an economic depression is multiple times more devastating than a recession, and will impact virtually everyone alive.
For example, consider this monthly chart of the Dow Jones Industrial Average (which gives us a good indicator of the current state of the stock market).
The arrows on the right are the recessions I mentioned above, while the arrow on the left points to the impact that the Great Depression of the 1920s and 1930s had on the price of stocks. The difference is massive.
The pullbacks in percentages:
Dot-com bubble, from 2000 - 2002: 38%
Subprime mortgage crisis from 2007 - 2009: 54%
COVID-19 in February/March 2020: 38%
Great Depression from September 1929 until July of 1932 : 90%
Quite frankly, we're not ready for the economic turmoil to come. We don't have experience and don't know how a depression would look in the modern day.
That's why I've created Us Enduring where we can join together to help and support each other. Share resources, encouragement, ideas, jobs, services, blessings, spiritual thoughts.
This is Us Enduring. Together, we will get through the difficulty to come and maybe even thrive in the face of it. We will prepare ourselves, life one another up and endure.
Why now?
I believe that the Great Depression of the 21st Century has either started already, or will start within the next few years and we should get answers to this pretty quickly.
If we, once again, look at the chart of the Dow Jones on a non-logarithmic scale, we can see that we've been forming a giant bubble during the last 40+ years.
(That blue arrow on the left is pointing to the Great Depression of the 1920s - you can see how big this bubble has gotten.)
And, what bubbles do best is - pop. Here's a popular diagram of what bubbles tend to look like, including the emotion felt by investors/citizens during the different phases.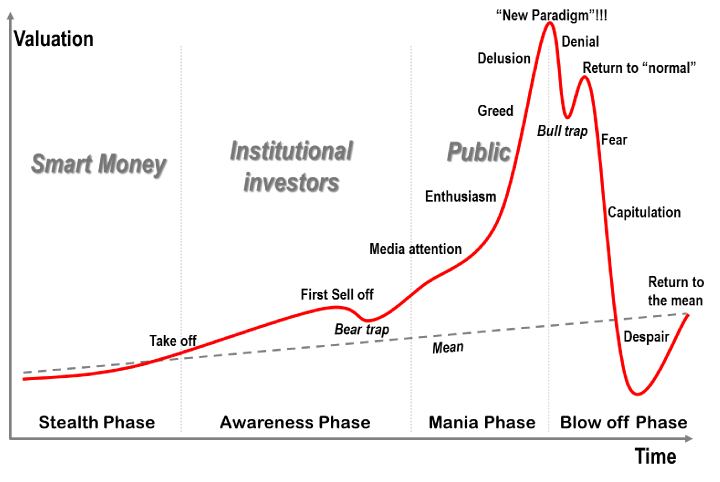 If this diagram is anywhere close to true, we may expect to see (on the Dow Jones) a "return to normal" phase in the near future followed by fear and capitulation, and a despair taking us back down to the $2,000 - $4,000 range (a ~90% decline).
This video provides another interesting perspective on economic bubbles:
So, what should we do about it?
The reason that I started Us Enduring is because I wanted to be proactive - not sit back and be a victim of the likely economic depression. I want to learn from the expertise of others. Hear valuable ideas, encourage and receive encouragement.
I'm not an economy expert. I'm not a seasoned stock technical analyst (or fundamental analyst for that matter). I'm not a banker or financial analyst.
I'm a regular joe - trying to plan for the future, take care of my family and make smart decisions. I'm a developer so that's why I built Us Enduring, but I need people like YOU to build the community.
Us Enduring needs:
People to ask questions
People to answer questions
People willing to share their personal opinions
People willing to share what has worked for them
People willing to provide encouragement and share positive words
People eager to help others
Will you be one of those people? Please consider joining our community. Once you feel comfortable, think about adding a comment on a post you read, or perhaps creating a post of your own (a question, resource or something else).
Thanks and I look forward to learning from each of you!